Click on the below trade publication, fill out the quick form and receive a free subscription. Just recently this offering became available which is not always the case, so if you are interested, you should apply now.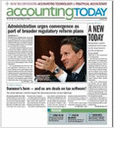 Accounting Today
Click here to start your free subscription to Accounting Today.
The Business Newspaper for the Tax & Accounting Community. Accounting Today is the premier news vehicle for the tax and accounting community. In this era of federal oversight and the subsequent ramifications of the landmark Sarbanes-Oxley legislation, keeping abreast of current events in the profession has become even more critical.